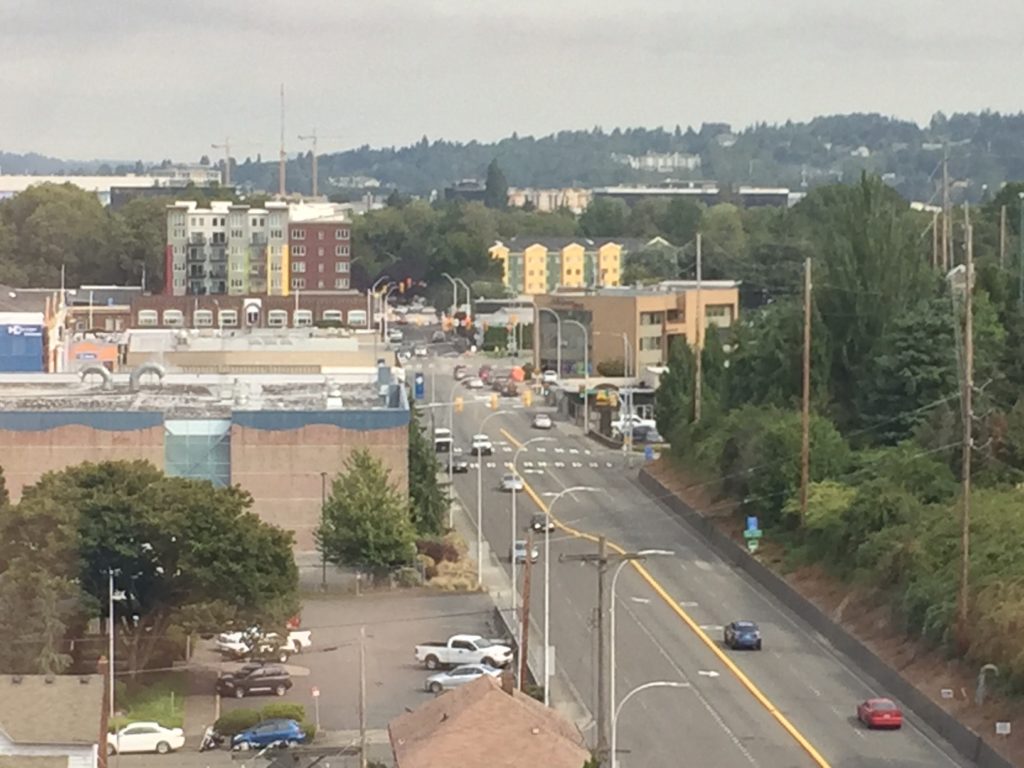 Above:  The view down main street from City Hall.  The street was already open to two-way traffic in the foreground, but was closed to northbound traffic North of the Veterans Park in the distance.  (All traffic was forced to turn right just past the three story building on the right side of this photo –where an orange construction sign can be seen on the sidewalk.  This traffic can now also go straight.)
From a meeting room in City Hall this morning, I caught the scene as our Transportation team opened up the north end of main street to two way traffic for the first time in half a century.  Motorists seemed unsure of themselves as they tentatively drove in new directions and tried some new turning movements.  This was the first of several one-way to two-way street conversions we are planning in the coming years to give our downtown a more livable environment and make it easier to navigate.
This street conversion will be followed by similar changes on Williams and Wells, and ultimately Second and Third Streets in future years if we can secure the necessary funding.  The conversions require updating of signals and intersections to latest standards, so the cost to eliminate all one way streets in Renton is in the tens of millions of dollars.  We're hoping to focus on the easiest and most important ones first, and obtain much of this money through state and federal grants, existing transportation revenue sources, and extra sales tax revenues resulting from increased vitality of downtown businesses as we improve the environment.
We're planning on accompanying the changes with wider sidewalks with outdoor dining, diagonal parking (where possible),  and enhanced landscapes.
To help nurture a thriving business environment, engineering designs will encourage pass-through traffic not to go through our historic downtown.  For example, SR 900 has been moved off of Second and Third Street, and onto the newly widened Rainier Avenue and I-405.
I wrote a blog entry in 2011 with some of my ideas on downtown revitalization, and  I described (with photos) how slowing down traffic, focusing on street frontages, and working together as a community dramatically transformed the downtown in my hometown of Livermore, California.  That blog can be found here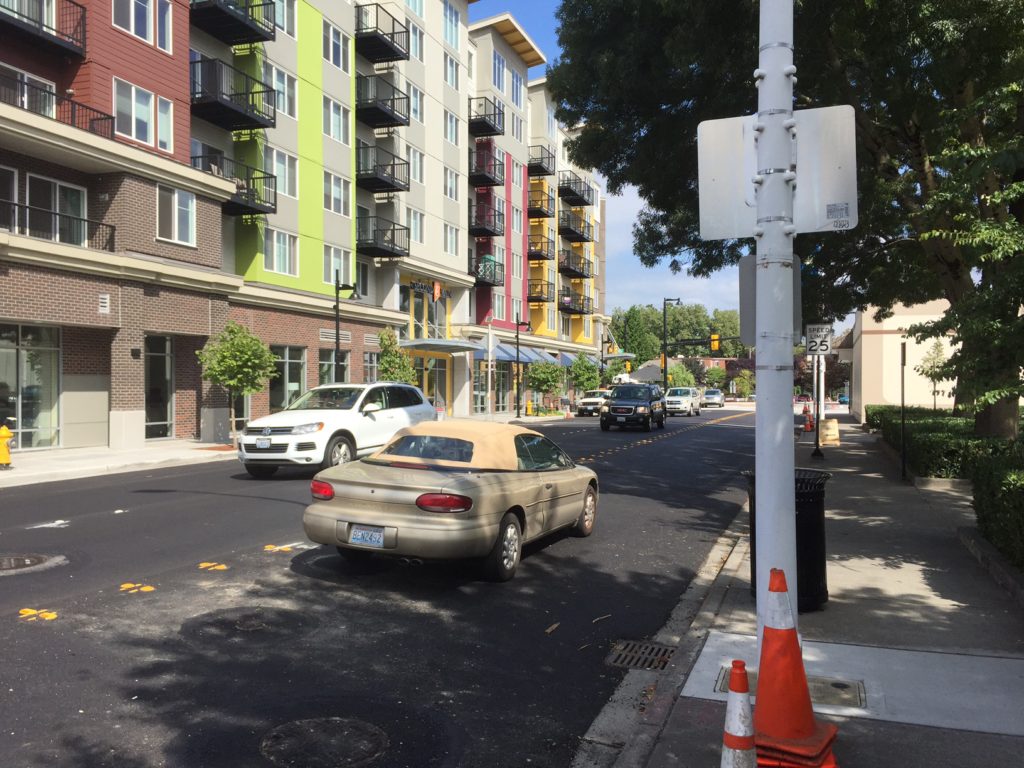 Above: The new two-way section of Main street, in front of g.h.y. bicycle shop.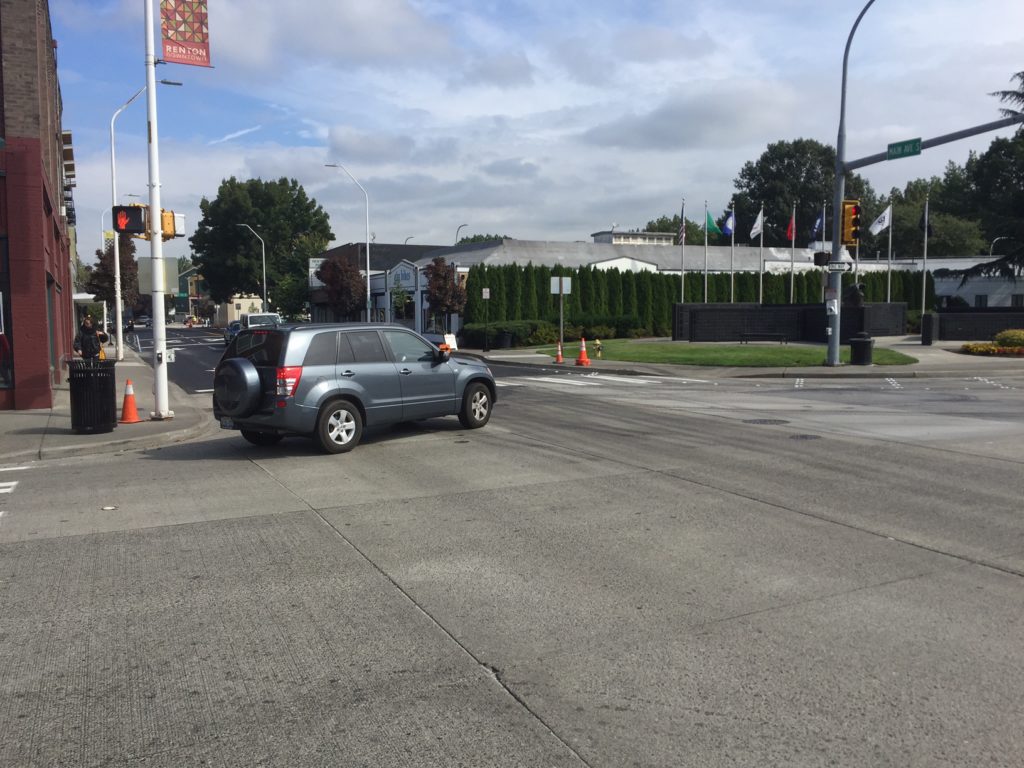 Above:  A motorist headed east on Third Street tentatively makes a left turn onto Main Street, something that was not possible since the 1960s.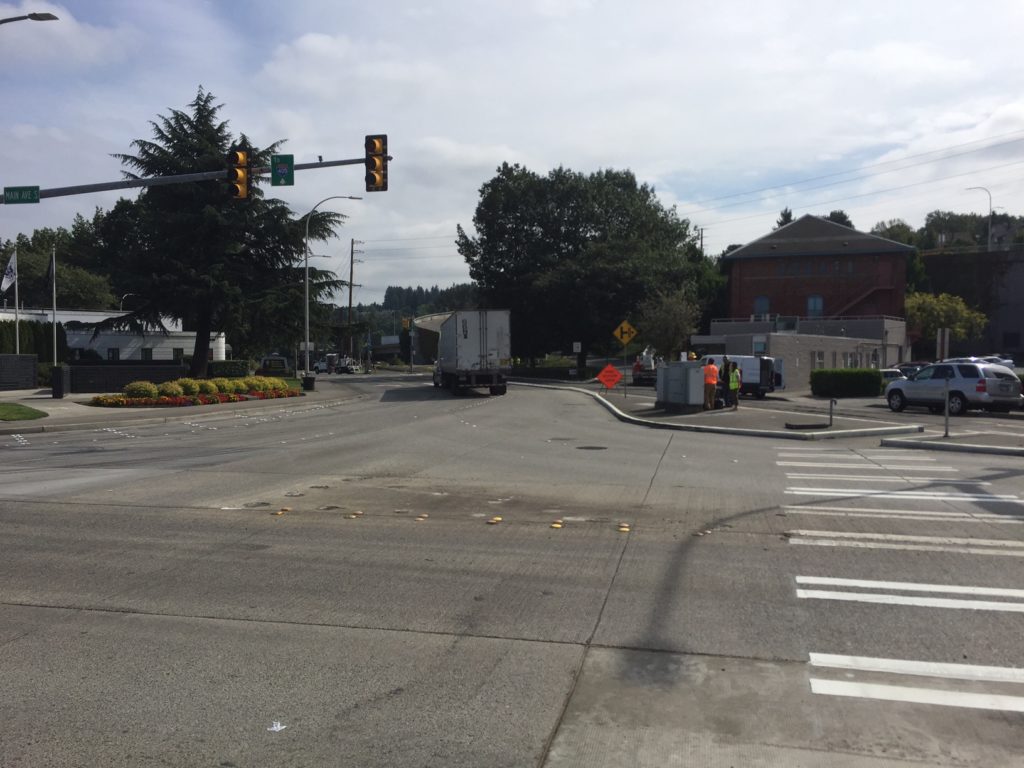 Above:  Renton transportation experts monitor the stop signals and the control box, making sure the new traffic signals are working exactly as engineered to allow the new travel and turning directions.