Note: I received a comment on my previous blog that is perfect for starting a new topic. The commenter, who goes by the moniker "Union Hat", provides some interesting and well-thought-out suggestions for making improvements to downtown. His ideas already started a dialogue, so I captured it below his comments as well. Please review Union Hat's suggestions, add your views on whether they would work, and add your own ideas! Thanks to Union Hat for this and other great comments, and thanks to all of you readers for your attention and ideas.
____________________________________________________________________________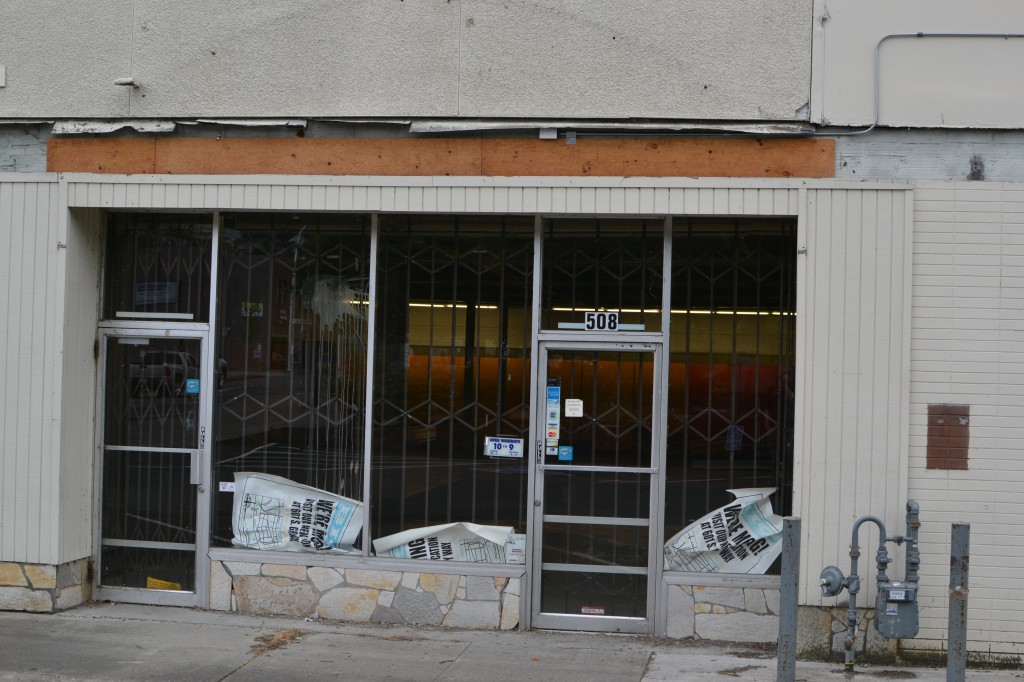 Pictured: The storefront west of the Piazza, where a new library had been proposed to replace this tired building. While voters rejected moving the library from it's over-the-river location, most citizens I have talked to feel it is worthwhile for the council to focus on further revitalizing this section of downtown Renton. I have heard many good ideas proposed
(From Union Hat)
The vote on the library location is in: Renton Wins!
Cedar River Library lovers get to keep the location we all have appreciated for nearly half a century. Awareness of the need for real revitalization in the oldest part of downtown Renton has not been this great since the local improvement district was created in the late 60's.
There is still lots of work to do, but we have a chance to get things moving in a productive direction. Here is a To Do List to jumpstart the creative dialog between Economic Development Department, the City Council and the downtown business owners. Please add to my relatively random list of ideas.
Pass an ordinance requiring a private kitchen and bath for rented rooms in the historic district and providing tax credits for renovated office space.
Provide property tax credits to owners who strip off all of the ugly 1970's upgrades to the building facades and/or restore the brick and stone exteriors and windows to their original design using energy efficient materials. For buildings constructed after 1920, encourage modifications that harmonize the visual appearance of the exteriors with the buildings constructed between 1900 and 1915.
Replace all of the old, ugly and increasingly unsafe sidewalks on S 3rd between Main and Smithers. Replace the odd gutters at the corners. Choose a concrete finish that is safe and durable, but reminiscent of the original wood sidewalks or Renton brickworks sidewalks or both. Include modest midblock sidewalk bump-outs for easier pedestrian street crossing and sidewalk vendor kiosks. Include utility hookups.
Replace the odd 1970's street lighting and the remaining corner mounted traffic signals. Choose a pole and lamp style reminiscent of early 1900's gas lamps. Consolidate the little hand holes, and improve the underground conduits to add capacity and provide a building entrance to every structure in downtown. This will allow connection of very high speed fiber to the second story offices. Combine superfast Internet with low cost office space on the southern end of the eastside tech corridor and you create a high-tech startup incubator.
Realign SR-900. The Historic District along S 3rd suffers from far too much vehicle traffic and too little foot traffic in part because they are in direct conflict with each other. By extending MLK way diagonally through the Safeway parking lot to connect with S 2nd and doing a modest widening of S 2nd there could be nearly the same traffic carrying capacity on S 2nd as there is now using both S 2nd and S 3rd.
Reduce S 3rd to a single west bound lane with diagonal parking along both sides. Provide traffic calming planters at each intersection with small street trees and low growing vegetation. Consider stained concrete intersections as we have in The Landing. The finish could reflect roadway bricks made at the Renton brickworks.
Bathe the historic district in very high speed, free wi-fi. Include Rainier, The Landing and the Ikea Shopping District. Perhaps Sunset between N 10th and N 12th and parts of N 4th should be included. Municipal wi-fi is not nearly as cool as it used to be, but is increasingly expected as part of any desirable destination. Very young tech startups might ride on free wi-fi for the first year.
DO NOT spend 10 million dollars to renovate the Cedar River Library. Do an essentials only renovation for about $2 million. If KCLS insists that there needs to be an entrance near the south parking lot, put an attractive rain roof over the pedestrian bridge leading from the parking lot to the existing entrance. When the economy improves a more extensive remodel and expansion to a Ragional library can be considered.
DO spend about 2 million renovating the existing Big 5 structure and relocate the Police Patrol Operations Division into the building for at least 5 years. There has been talk of building a new City Hall building in the old downtown for several years. That is not going to be affordable for a decade (never if we get Barack'd again on Nov. 6th). We can do some stimulus and a lot of crime prevention by putting the police who chase criminal's right into the belly of the beast. Once West Hill annexes, that location will be a more central location for most of the high crime areas in Renton.
Vacate Mill Ave. S between Bronson Way and S 3rd and expand the parking for the Library and the Museum. With the expanded traffic volume on S 2nd/Bronson the Mill and Bronson intersection will no longer be viable anyway. Put a large bus stop bump out on Bronson where Mill used to be. Include a large sign identifying the KCLS library.
Get KCLS to pay for including the Cedar River and Highlands Libraries in the Renton Wayfinding sign system. They promised us some signs, we should hold them to their promises or they will continue to have no reason to respect Renton.
Yes the projects described above will cost something like 200 million dollars and it will be difficult to amass that much cash. It does not need to be done all at once. Something like 15% to 20% must be local matching funds, but once you have the 30 to 40 million budgeted, it is possible to get federal, state and county improvement grants that could provide practically all of the remaining money needed to actually revitalize Renton. The 10 million we dumped into the parking garage might have attracted 50 million outside dollars. We could have SR-900 realigned already if we had leaders with a little less impatience and just a little more vision and faith in our community.
Get the Administrator of the Community and Economic Development Department to move into town. Strongly encourage the other department heads to live here as well. Their perspective needs to be that of a participant, not a detached management consultant.
If you don't like my crazy ideas, please post some of your own. It is time to come together to move Renton ahead.
Reply
_______________________________________
Commment to above, from RentonBen
I like all of them – a series of rational improvements, and no expensive boondoggles.
________________________________________
Follow-on Comment from Union Hat
OK Ben,
How about this? Annex West Hill and extend Renton level police service west to Seattle. Cleaning up crime in downtown Renton needs a regional approach and the King County Sheriffs don't get the funding they need to hold up their end of the deal. If we are going to beat the crime in Renton and West Hill, we need to join West Hill to Renton first.
Still rational?
____________________________________
Readers, please join this discussion with your ideas by clicking on the comment button!