(This journal entry is part of a series relative to an upcoming Aug 7 vote on Renton libraries. To see my earlier entries for more background on this topic click here )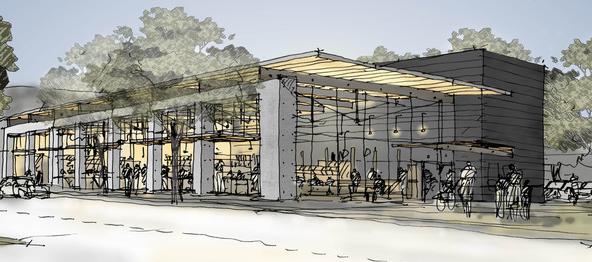 The proposed Piazza Park library (depicted artistically above) could create a twenty-five million dollar deficit in Renton's budget over the next ten years by requiring us to build and operate an environmental interpretive facility that we have no money for.
The larger existing Cedar River Library (above) could be brought up to "brand new" KCLS standards with money already bonded plus a one-time expenditure of $800,000. This $800,000 (which equates to just 8 weeks of our tax payments to KCLS) could come from either KCLS in recognition that our libraries are serving many non-Renton residents, from sale of the old highlands library property since the Highlands library is being relocated, or by making the libraries a little less fancy.
Many Renton citizens vividly remember the financial picture that brought us to the KCLS-annexation election two years ago. With the on-going recession and revenue cut-backs, the city could barely afford to keep spending the 1.8 million dollars a year to keep the library open. (Click here for the story in the Renton Reporter). As explained in the Renton Reporter story, when we lost staff we could not afford to replace them, and the buildings were falling into disrepair. With this sad story, the city set the stage for an extremely close election to annex to KCLS. Now that the annexation is complete, Renton taxpayers are funding KCLS with five million dollars a year, a 280% increase over the 1.8 million dollars reported as the 2008 library budget. In addition, the City still collects the 1.8 million dollars per year from Renton taxpayers (that we said we could barely afford), and we have dedicated it to pay off bonds $19,000,000 dollars in bonds to upgrade the library buildings themselves. And by the way, the economy is still bad, and we are still having to cut costs in the City of Renton.
The $19,000,000 we secured in bond money will build us an all-new much larger highlands library (which serves many non-renton KCLS residents who live east of the City of Renton), but falls about $800,000 short of doing the desired just-like-new remodel of the Cedar River library "to the modern KCLS standards." This $800,000 one-time deficit could easily be bridged by KCLS contributing this amount, which is about eight weeks worth of the taxes they collect from us; this would be a small contribution considering Renton taxpayers are paying nine million dollars to triple the size of the highlands library in part to serve out-of-city residents better. As an alternative, we could cut back the fanciness of the Cedar River Library remodel and get it done without a KCLS contribution.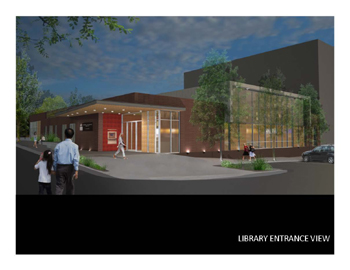 The Renton Highlands library will move to an all-new building (depicted above) that is triple-the-size on Sunset Avenue/ Highway 900, so that it can more easily accommodate both Renton and non-Renton (east-plateau) KCLS users. Renton residents alone are paying the entire nine-million dollars in cost for this new building.
But just when Renton taxpayers might assume they have paid more than enough to fix the library problem, advocates of the "New Piazza Library" are ready to add countless millions of dollars of additional costs to Renton's already over-stressed budget– they want to move the downtown library to a new location with no concern about finding the money to either operate or remove the iconic library building over the Cedar River. Piazza library advocates are generally repeating a simplistic message– that the Cedar river building can be repurposed as an environmental interpretive center. But no one knows how much this would cost, or what it would take annually to operate, or where the money would possibly come from. If we don't use our library bond to renovate it, then there is no money to pay for the new roof it needs, the heating and plumbing issues it has, or any of the renovations required to make it an environmental interpretive center. And the 1.8 million we were using to heat it and staff it when it was a city of Renton library is now dedicated to paying off bonds, and the five million a year we give to KCLS has maxed out our property tax collection capability. If we can not find the money to operate this building and we abandon it, we face the very real possibilities that federal or state agencies could force us to remove it. This cost would also be in the millions of dollars, and would either cut Liberty Park off from parking on the other side of the river, or require that we replaced the library with a new bridge for millions of dollars more. Any way you deal with the unused building, you are looking at millions of dollars of unbudgeted costs.
In the face of all these unknown costs, Councilmembers Greg Taylor, Marcie Palmer, and I felt that we should hold off making any changes to the downtown library until we had a complete plan. The pre-annexation agreement with King County Library System sets no required timeline for these renovations, and no one could expect us to go forward with a renovation without a complete plan and a means to pay for it . However, the three of us were outvoted, and the split-council put the incomplete Piazza Library plan in work.
Concerned citizens circulated petitions so that Renton voters could have the final word on this decision. This was good news, but unfortunately voters have a shortage of information (since the Piazza Library plan is still incomplete) and there are parties that seem to have no qualms about glossing over this fact. For instance, KCLS prefers the Piazza library idea, largely because it is smaller and therefore more efficient to run (less staff and fewer books on site). As far as I can tell –with a still unfulfilled Freedom of Information Request in the pipeline– KCLS is about ready to send out a mailing at taxpayer expense to tell every Renton resident about the economies that the library district will enjoy with this new building WITHOUT reminding residents that they will be on the hook for new costs from the City of Renton. Meanwhile, some Renton business owners are in favor of the Piazza library plan because they like the impact of city investment in this part of town, and they probably assume taxpayers will find some way to deal with the costs at the old library site. These business owners are starting to broadcast this revitalization message, while glossing over the fact that the proposal is short by millions and millions of dollars.
I've tried to find out what I can about the anticipated costs of an environmental interpretive center. What I have found is that modest ones cost about the same as libraries. For instance, here is some information about a built-from-scratch environmental Center in Pittsburgh. It costs about the same per square foot as a KCLS library. Closer to home, Seward Park now hosts a smaller fairly new environmental center (click here for info) that was accomplished for two million dollars in a historic park building– but the building is much smaller than Renton's, it started out in fundamentally good condition, and did not need the three-million dollars in earthquake retrofitting that Renton's building would require. These comparisons would suggest a price range of five to ten million dollars to remodel Renton's Cedar River building into an environmental interpretive center.
Looked at another way, the Robinson Company prepared an itemized report of the upgrades that are desired to turn the Cedar River Library into a modern building for KCLS, and came up with 10.1 million dollars. When I look at this report, item for item, almost all of the features look applicable in an environmental interpretive center. For instance, the building needs a new roof for about a half million dollars, new plumbing and electrical for about a half million each, etc. Things like bathrooms upgraded to ADA standards would be the same, etc. The part that is different between an environmental center and a library would be the final outfitting and furnishings, and these are not in the Robinson Company estimate because they are KCLS responsibility. Hence, the ten million dollar figure might be about right, or perhaps even on the low side, to outfit an environmental interpretive center.
Note that this assumes a fairly modest environmental interpretive center that lacks some of the features that were discussed/pictured in a Renton library-repurposing committee report prepared last spring. For instance, the committee report includes the possibility of a "green roof," which would be a growing carpet of grass or other plantings to absorb and transpire roof rain water–certainly a neat feature on such a building. But such a feature is also very heavy, weighing up to 25 pounds per square foot for all the drainage gravel, soil, sod, and membrane layers, and the extra structural requirements combined with the complexity could add significant additional cost to the building beyond the rubber membrane roof that we would use on the library. As another example, a photo on page 15 of the report seemingly depicts a large aquarium in the facility– and perhaps we would want amphibians, insects and other animal life. This type of vision for the building is both beautiful and costly. From personal experience, last year I visited an excellent example of such a building in San Fransisco. The city has remodeled their historic Academy of Science Building into a modern environmental interpretive center, complete with a green roof–along with aquariums, insects, reptiles, amphibians, taxidermy-preserved mammals and many, many displays. The building is about 18 times larger than Renton's library, and the renovations cost came in at about 500,000,000 dollars (half a billion dollars). At this level of cost/quality/complexity, outfitting a building the size of Renton's Cedar River building would cost 28 million dollars.
Again, I think ten million dollars would be modest to renovate our Cedar River building into a environmental interpretive center.
With regard to staffing and maintaining it, I don't see how it would be much less expensive to maintain than the library was, and in fact it could cost more if it included significant living displays. In 2008 our total library budget was about 1.8 million, which included operating the 4000 square foot highlands library. I would guess that in 2013, if we wanted to field a high quality environmental interpretive facility, and we looked for every economy possible, we could possibly operate it for 1.5 million. This amount of money would roughly cover about 14 full-time equivalent staff (which would be two shifts of seven to staff the building and manage exhibits for 70 hours per week, minus vacations, sick leave, training etc), keep the exhibits fresh, and provide about a few-hundred-thousand a year for janitorial service, utilities, maintenance, insurance, and and other miscellaneous expenses. This budget would assume that we could recruit volunteers to interact one-on-one with visitors where we have interactive displays.
So in summary, we would need about 10 million dollars capital plus 1.5 million a year indefinitely to turn our Cedar River Library building into an environmental interpretive center, and we do not have this money or any plan to get it. Without the money, the building will likely go dark if the library moves out, and could be considered abandoned and we could get increasing federal and state pressure to remove it. If we were forced to remove the building, that would require millions of dollars more because we are demolishing over a river with endangered salmon, and because we would probably need to put a bridge back in place of the library. KCLS leadership never mentions the repurposing or demolishing of the existing library in any of their information, as they will not help us with this expense. Renton businesses in favor of the library move have also left this out of their literature.
Fortunately, the voters pamphlet addresses this issue, but the word count was limited– so if you know people looking for additional information please send them to this blog.
And no matter how you feel about this issue, please be sure to vote on August 7th. A large voter turn-out will assure that we are all in this together, whatever the outcome of the vote.