Savvy Traveler Store Manager (and frequent world traveler) Alexandra Rousu (right) and a knowledgeable member of her staff inspect merchandise displays during the store's soft opening today.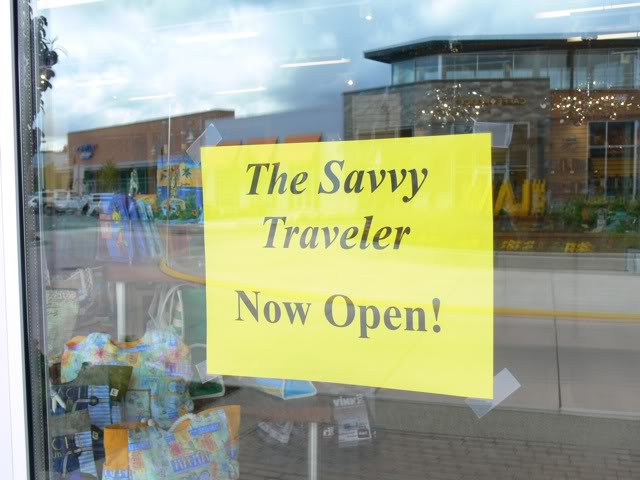 The Savvy Traveler is located on North 10th street in Renton, across the traffic circle from Caffe Felice, in the entertainment section of the Landing (near Boeing and Lake Washington.)
Rentonites planning to head out of town will want to stop by the Landing's new "The Savvy Traveler" before their trip. Whether you are headed on an overnight to Portland or a month-long visit to Taipei, you'll find maps, guidebooks, clothing, luggage, travel organizers, and all other items that will make your travels go more smoothly.
The beautiful new store at the Landing had a soft opening today, and will start regular hours from 11:00 AM to 8:00 PM tomorrow.
The store is the second "The Savvy Traveler" location, and expands a successful business owned by Petra and Don Rousu. Their first location is in Edmonds Washington where Petra Rousu also sits on the board for the Chamber of Commerce.
This location will be managed by their daughter Alexandra, who shares her parent's passion and experience at world travel.
Cathy and I and our daughter Susie had a fun time browsing their bright and cheerful store today, finding many items that would have made our travel easier in the past. We will be sure to stop by the Savvy Traveler the next time we are planning a trip out of town.
In addition to a wide range of merchandise, the store will be offering travel symposiums to help customers learn skills to make their trips more productive and enjoyable; attendees will be able to learn everything from packing for the trip to planning a major itinerary from other experienced travelers. While their class offerings in Renton are still being planned, here is a list of seminars available at their Edmonds store. Their offerings in Renton will probably be similar.
Please make a point to drop by and welcome the owners and staff of the Savvy Traveler to Renton. While you are there, be sure to check out their great merchandise.
Here are some of my photos from my visit today: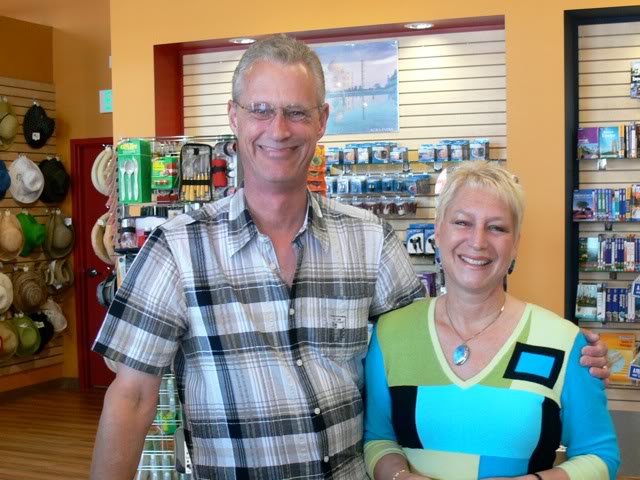 Savvy Traveler owners Don and Petra Rousu. They are both extremely experienced travelers themselves.