I don't have a problem with women dancing and taking their clothes off. But I am concerned that Sin Rock, the adult club going into Renton, is going to have troubles accomplishing the owner's earning objectives while complying with city ordinances. I would be surprised if the venue, with it's 30 or so parking spots, is really going to be successful with just a stage show and sales of food and soda pop.
I'm also concerned about the potential drain on our police resources, as last night's assault/gun incident in Seattle's Deja Vu illustrates. Click here for the story
And there are an increasing number of parties with a stake in this club. The club has been hiring dancers and other support staff for a while now. Here is their Craigslist advertisement:
_____________________________________________
UPSCALE CABARET IS NOW HIRING FOR ALL POSITIONS (Renton/Tukwila area)
Date: 2010-03-08, 1:22PM PST
Reply to: job-qhu7f-1634701586@craigslist.org [Errors when replying to ads?]
Seattle's Hottest New Upscale Gentleman's Club is now hiring for Waitress, Doorman, DJ's and Entertainers. Please call 425-255-XXXX or come in to fill out an application. 208 SW 16th St. Renton 98055
* Location: Renton/Tukwila area
* Compensation: within industry standards $$$$
* Principals only. Recruiters, please don't contact this job poster.
* Phone calls about this job are ok.
______________________________________________
I've never met the owners of the club, and I have no basis for not trusting their honesty or integrity with this venture. As far as I can tell, they have obtained all the proper permits, and performed due diligence in their siting and zoning of the club.
Instead, I'm simply concerned that the club-onwers may not understand the limitations that Renton's four-foot rule will place on their dancers. (For my previous blogs giving background on this four-foot rule, click here )
Renton's rules in the valley industrial area would clearly permit adult cabarets with nude dancers to provide stage shows. The Sin Rock Club owner was recently quoted in the Renton Reporter as saying Sin Rock would have a Vegas Style atmosphere, which for some Rentonites could bring a stereotypical image to mind which looks something like this (but with fewer clothes):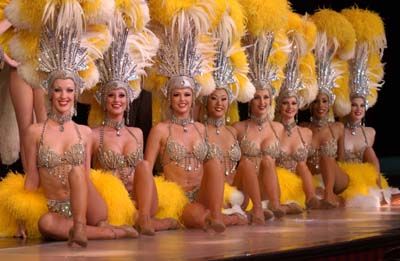 However, the owner goes on to mention his club in Anchorage Alaska, which includes an intimate room with looks like this:
Photo from www.clubsinrock.com
I have not seen the detail plan for the Renton club, so I'm not sure what the layout and decor will look like. But if it looks at all like the Anchorage location, I would not be surprised to hear of violations of Renton's ordinance very early on. If entertainers in anything less than full dress mixed with customers in the room above, they would very likely be violating Renton's ordinance. The complete text of Renton's ordinance can be found here .
I know from previous comments on my blog and on the Renton Reporter web site that this rule seems puritanical to some readers. To some it may seem the best course to simply "chill out", and let the customers have their intimate dances. I personally would feel this way if not for a couple of issues; (1) the state law on prostitution is really difficult, expensive, and simply awkward to enforce without the four foot rule; (2) clubs without the four-foot rule tend to require a great deal of police and prosecutorial work to handle the ancillary secondary impacts, as demonstrated in last night's sexual assault and gunplay at Deja Vu.
The first issue is confusing, as many people think that dancers would have to run off to a private room with a patron in order to violate the state's prostitution law. In fact, Washington's prostitution law is pretty strict, and can easily be violated by a dancer sitting on a patron's lap. Here is how the law reads:
RCW 9A.88.030
Prostitution.
(1) A person is guilty of prostitution if such person engages or agrees or offers to engage in sexual conduct with another person in return for a fee.
(2) For purposes of this section, "sexual conduct" means "sexual intercourse" or "sexual contact," both as defined in chapter 9A.44 RCW.
from 9A.44
"Sexual contact" means any touching of the sexual or other intimate parts of a person done for the purpose of gratifying sexual desire of either party or a third party.
( Click here and here to see the law on the Washington website.)
This is a tough standard. Particularly since touching even "other (non-sexual) intimate parts" is illegal for money if it is to gratify sexual desire. What is an "intimate part"…the neck?…the thighs?…
Adding to the confusion, many adults don't agree on what sex is, as described in this article in health news two weeks ago. And of course, there are many who think that prostitution should not be illegal.
Still, the state law tells us prostitution is illegal, and the law defines (perhaps somewhat vaguely) what it is. Since it can include many types of touching, the four-foot rule prevents Renton from having to make the difficult interpretations. This is something some commenters may not have understood. Some have asked, are we going to have police standing around with yard-sticks measuring the distances and then making an arrest? But the point is, you can tell from across the room if the four foot rule has been violated when two people are in the same chair. On the other hand, without the four-foot rule, the police would have to stand around with a feeler gauge looking for any contact.
Seattle, which does not have a four-foot rule, has tried (very expensively and controversially) to enforce the prostitution law using undercover operatives actually receiving lap dances– since there is no other easy way in a dark room to tell if the lap dancer is making contact with patrons. Renton does not want to pay for this. Furthermore, we do not want to get a reputation for not enforcing the state prostitution law.
So, the question is, can the new Club Sin Rock pay its Waitresses, Doormen, DJ's and Entertainers with just its stage show and sales of food and soft drinks? Do the dancers understand that lap dances and couch dances will not be allowed? If so, then maybe I'm being a pessimist, and this conflict will simply go away. This is one time when I would be happy to be wrong.

Without the four-foot rule, one might need a feeler gauge to know if the law is violated